Most cartoons had no overt influence on my relationship to sex and seduction (which is exactly as it should be on the whole – poor kiddos should be allowed to climb trees and skip rope for as long as possible.) However I grew up admiring one cartoon who did shape my aspirations and my view of my identity as a blonde bombshell who would compete with men and really go places.
At times the classic "damsel in distress" and undoubtedly "the glamour girl of the gas pedal", Penelope Pitstop apparently was an afterthought in the original Wacky Races cast of racing drivers. The token feminine toon presence. (Been there Penelope!) But as a little girl, she was the only racer that I was interested in and damn did I want her to win!
She was one top totty! She could be very smart, at times ingenious. She was athletic and professed to be the champion at any sport mentioned. I grew up to love sports. I was on every sports team at school and still love being able to outrun Ben (ooops, not supposed to let that slip). Yet she became completely vulnerable and helpless in the clutch of The Claw.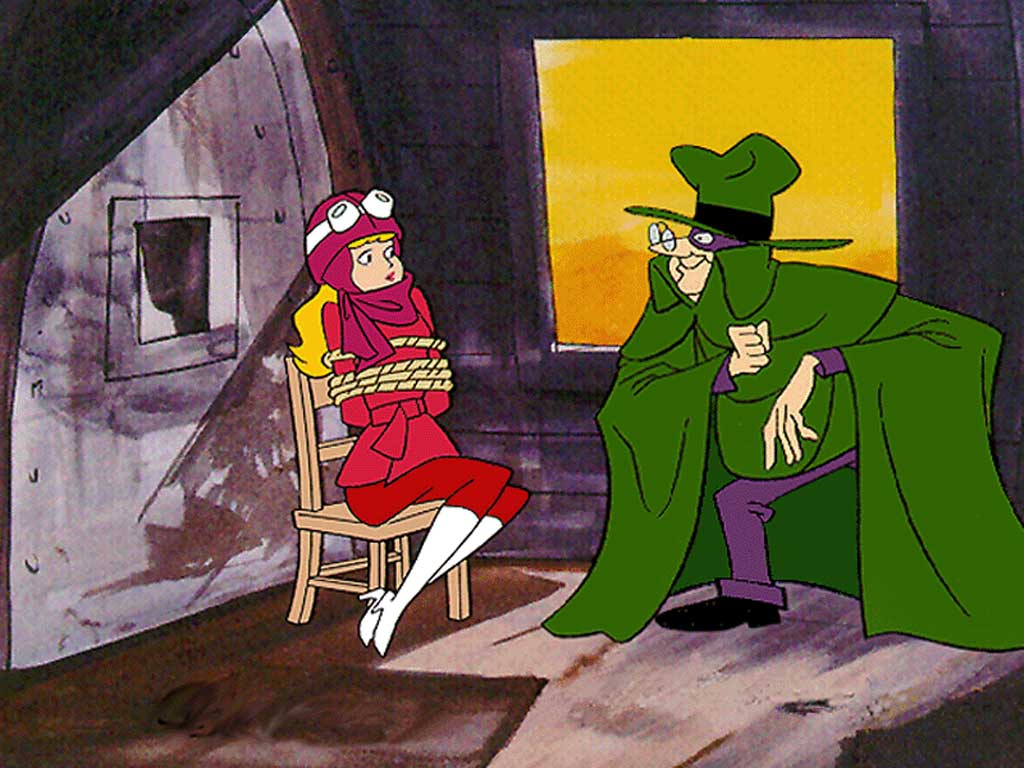 Perhaps that normalised being tied up when one of my lovers introduced to me the concept of bondage, although my lover was not a snivelling snidey sneaky sabotager. He was just one hell of a lust-driven and very attractive man into every kink out there.
Whenever Sylvester Sneekly (in his disguise as The Claw) captured Penelope Pitstop, all she could do is meekly cry out "heyulp…heyulp!!!" We would have to wait and see who would romantically come to the rescue.
I am sure that I was drawn to the combination of blatant femininity, having a no-fear attitude when it came to traversing the world of men, and I was inspired by her keeping up with their pace and often outsmarting, outspeeding and pipping them to the finishing post.
Sassy, ambitions, confident, using her charms to get ahead in the world, clever, stylish, athletic and into bondage. Wow! What a knockout she was! Ben only discovered my admiration for Penelope Pitstop when I told him my idea for this post, and he agreed that the little girl who used to watch Wacky Races, clearly found a role-model inspiring Jenna Kirkpatrick to become the sex siren, blonde bombshell that she is today!
Even now, I think it is a provocative Penelope Pitstop within me that you have a snapshot off each time I post on this blog. Racy, seductive, flirtatious, curvaceous titillations in every poem, story and personal account…all laid out on a sweet scented bed of pink to allure you.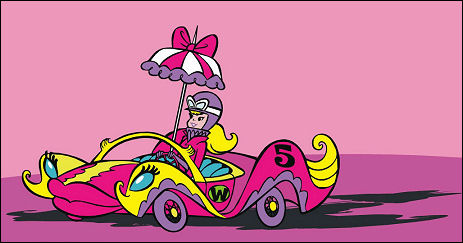 Do you know what Penelope Pitstop's car was called? The COMPACT PUUSSYCAT…what an amazing name for a car that had an engine that purred, a curvaceous body and wheels that could stalk down rivals and get Penelope exactly where she wanted to be!
Ben says I too have a compact pussy…which is completely irrelevant. The point is…I love being a woman. I love being female. I can be sweet and sexy, feisty and flirty, demure and distressed – I can be whatever the hell I want to be! I am the modern woman! I love sports and athletics, I love driving "like a man", I love pink (can you tell?), I love sexy thigh high boots, I love being treated like a pretty peach by male admirers when I make an entrance. I do believe that I learnt all that and more from Penelope Pitstop!
This was my post to join in the Looney Tunes link-up hosted by Rebel's Notes. Sorry I am late to the party…it took me a while to figure out how to join in.