Before I explain our hobbies and pastimes, I am just going to explain that for the past couple of years we have lived a nomadic life. Ben and I have some friends that seem to think we lead some kind of glamorous lifestyle. Normally we travel a lot (because of Ben's work). But if you have to travel regularly for work, the novelty can wear off, and it can become tiring.
2020 has completely messed with our normal lifestyle. I will explain more in other posts but we ended up spending several months apart, which was odd. It was not long after Ben and I started going out…or perhaps I should rephrase that, it was not long after Ben and I started having sex, that I officially became his housemate. Everytime Ben traveled for work, I would go with him (there was just one land I was not able to get a visa for, simply because I had visited a neighbouring land who were not on friendly terms).
I should explain, Ben and I have known each other for years, first through work, then within the same social circles, then as friends who used to meet for coffee and go to exhibitions and for walks together. Eventually, Ben spat it out that he had a thing for me. (I reckon I will discuss in other posts why Ben waited for so long.) My reply was something along the lines of "I was wondering when you would get round to asking me out?" He cheekily replied that we had already been going out together for around three years (we'd been out for dinner, to watch movies and live music, to visit galleries and to do clothes shopping for Ben who is not safe to go into a clothing department on his own), and so he thought it was actually time to move things to the next level. So we did…straight away. That very night, we spent the night together and beautiful things happened. In a way Ben was right, it really was as if we had been courting for years, and when we made love for the first time, there was a already a strong friendship that meant we just wanted to give joy.
When we had the chance we used to enjoy spending our spare time visiting local places of interest…historical buildings, wildlife parks, museums and galleries, beauty spots. We really enjoyed sharing a meal and good conversation with people we met on our travels. Ben has a very fine palate and whenever we had chance he loved fine dining in posh restaurants where you pay $100 for a dish that looks like a pretty picture, and leaves you wanting to ask of you can have some bread rolls on the side to fill up your belly. I love home cooking (Ben's family make a lot of Greek food, which I now adore) and could not be happier than being guests at a family dinner.
Because we have frequently been on the move we often entertain ourselves. We always take a deck of cards, and either a mini chess set or a travel monopoly set. As sometimes we were in accommodation with few amenities, we have spent many evenings playing a game or reading together. Reading has been a thing we have done together since our first ever date as a now shagging couple, when we had a picnic and then I leant against Ben while he read poetry into my ear (such a charmer!) Ben loves wine – he is quite the connoisseur. He likes to relax with a bottle of wine, talking about work and then doing something to forget all about work.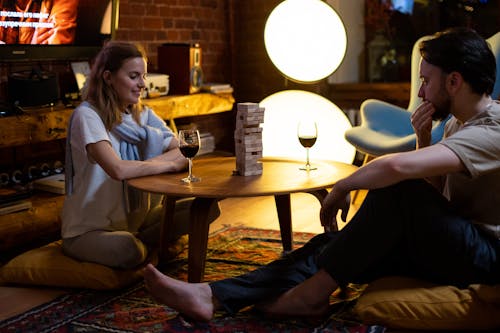 Ben was posted overseas at the start of the coronavirus, for what we expected to be a short-term stint. I have family here in the UK, and after discussing it, I decided to stay to make sure all my family were going to be alright throughout the anticipated lockdown.
But Ben's travel arrangements were disrupted and he was told that his posting had been extended. At first I just thought we have to accept it and get on with things. However, I missed Ben a lot. We tried to keep our romance alive…but technology was not on our side. As you may know we ended up sending a huge amount of erotic emails to each other, which we later used to write our erotic romance novellas (romance with explicit sex scenes):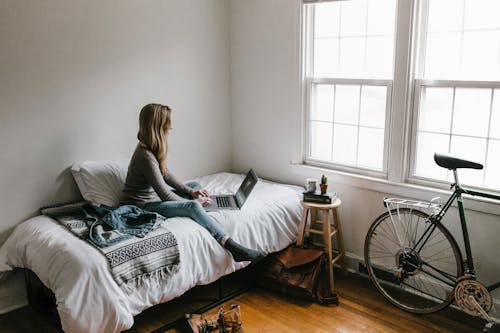 While Ben was away, I enjoyed spending more time than normal keeping in touch with my family.. I had to find some of my own hobbies to stay sane during the lockdown. I was jogging regularly while Ben was away and I also decided to try a raw vegan diet (Ben loves meat, so it was something I thought I would do while he was away). I think I lost a few kilos while he was away. I spent way too much money shopping for lingerie online to give Ben a very warm welcome back. The lockdown was becoming boring and so much longer than expected. I was spending too much time on my own, and I missed Ben intensely. I think that is why one of the only things I was enthusiastic about was writing these explicit sex scenes to Ben, which he seemed to appreciate.
I was rewarded for my efforts. Ben came back to the UK with a lot of pent-up arousal. The first few days he was so hungry for sex. It was great. He had loved the erotic messages we had shared. He was very encouraging about turning them into novellas. So we did…(SEE BELOW).
In addition, Ben came up with the idea of having an avenue to promote the books. He helped me set up the RASPBERRY RIPPLES site on WordPress and charged me with the responsibility of using it to promote enthusiasm for the novellas. So my prurient pastime, is preparing short or long articles on sex and seduction for the site. I can already tell it is putting even more sparkle into the relationship Ben and I have. He seems to have lost interest in playing with cards, chess or monopoly, movies or reading are not holding his attention for very long. Ben has definitely been making the most of us being back together after several months apart. We are both working from home from Monday – Wednesday. Those days, Ben can be like a teenager, full of testosterone. He is better than a teenager, he is appreciative, generous, sexy and he is experienced. He and I know each other's bodies inside out. So there are plenty of interruptions to work.
This site has only been up and running for two weeks, but so far it has been fun. I am writing, while Ben suggests ideas and he is supervising it. I think there is a lot of different tastes under the umbrella of literotica, but we have decided I write romance mixed with explicit sex scenes. Ben and I have already started working on a third erotic romantic novella, but I will tell you more about that when it is ready to be published.